I created this blog to showcase a little bit of what I do and what Your Kids' Creations can do for you.
Send me your child's short stories and drawings, and, for a fee, I will make them presentable in their own book at Lulu.com. Once the book is uploaded into an account at Lulu.com created just for you, you will own all rights to it. You will be able to buy as many copies from Lulu.com as you like.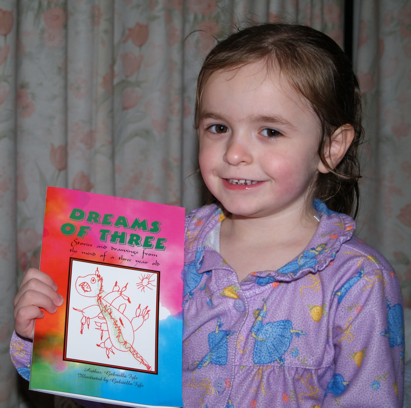 What I will need from you: I need 12 short stories (anywhere from a paragraph long to a page long) that your child has written and a minimum of 12 drawings that your child has drawn. (Drawings in marker are the easiest for me to transform for the book, but I can work with some pencil and crayon drawings too.)
If your child is too young to write or type, you may have them dictate a story to you and type it for them. For very young children, you will often have to ask leading questions, such as "How did she get away?" or "What happened next?" in order to keep the story going.
It will take me 3 days to prepare the book for you, and it will cost $50. Then it will be up to you to purchase whatever number of books you wish from Lulu.com at Lulu.com prices.
For an additional $25 fee, once you've purchased your book, I will take a few of your child's best drawings and upload them into a few products in a store for your child at Zazzle.com. Again, all rights to the art, the store and your child's stories will still belong to you, and ownership of the store will be in yours or your child's name. (For $100, I will add all 12 of their designs to products in their store, with or without your purchasing the making of a book.)
Examples of books created by children can be found at
Moonduster's Book Store
. Click "preview" under the books to see a few of the inside pages.)

Dreams Of Three

Dreams Of Four
Examples of children's stores can be found at
Imaginative Minds
and
Through Innocent Eyes
and
Kyra's Art
The books are a great way to inspire the creative side of your child and inspire a love of reading and writing in your child. It's also a great way to boost their confidence.
The store is another way to inspire your child's creative side. It may also earn them a little money from time to time, which helps boost their confidence as well.
Buying gifts from their newly created stores and buying their book is a great way to find the right gifts for grandparents, parents, godparents, teachers and others for Christmas, birthdays, Mother's Day, Father's Day, Grandparent's Day and other occassions!